I've been interested in catching up with Tri-City ValleyCats OF and Astros 2012 16th round draft pick
Dan Gulbransen
ever since I saw this tweet from
Austin Elkins
last August.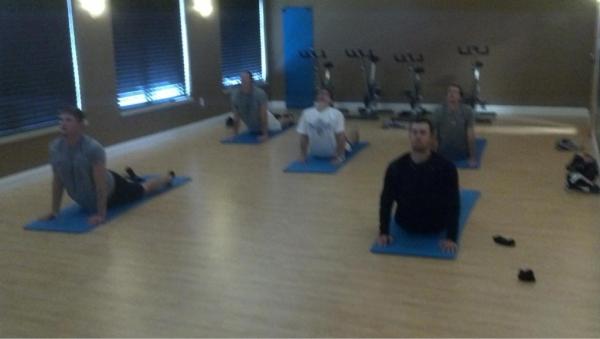 You don't often hear about baseball players doing yoga, but when I heard that some of the 2012 ValleyCats team were participating in classes led by Gulbransen, it was one of those "aha" moments for me. Core strength and flexibility should only help performance on the field and assist in keeping injuries at bay.
In addition to hearing about the yoga, I wanted to find out more about Gulbransen. When I was reading about him prior to sending him the interview questions, I was struck by the sincere praise of Gulbransen's work ethic and mental preparation, his pride in his defensive capabilities and his academic excellence.
His answers to my questions convey that intelligence, coupled with thoughtfulness and self-awareness.
WTH
: When the new draft class comes in, it generally takes me a while to get everyone straight, but you quickly emerged as "the yoga guy" in my mind. How long have you been doing yoga? In what ways is yoga helpful for baseball players? I know that you recruited several of your fellow ValleyCats into participating in yoga sessions. Did you win over any skeptics? Any holdouts?
DG
: I started doing yoga by following instructional DVDs while I was in high school mainly as a way to recover from football games. Throughout high school, I was a big weightlifter and started developing some lower back tightness and it was suggested that I do yoga as a part of my training. As I got into college, I had to take a yoga class as part of my activities courses at Jacksonville University and the instructor was awesome. Looking back, that was probably a main influencing factor in where my practice has taken me so far. It soon became apparent to my teammates that I was the yoga guy and then an assistant coach asked me to lead a Saturday morning class for the team after seeing what I was doing on my own. That was an adventure. All those events together have contributed to where I am now.
Yoga deals with the practitioner as a whole. Every person is unique and the practice of yoga molds itself to fit every individual's needs. Everyone who practices yoga can benefit from the physical, mental, emotional, and spiritual components that it has to offer. More specifically applied to baseball, movements are very repetitive in nature, so it's incredibly beneficial for baseball players to engage in a yoga practice to work on bringing muscular balance into the body. I also think that yoga helps to bring space into the body so that movement becomes more efficient in nature. With the relaxing effects yoga has on the nervous system through its focus on the breath, it's helpful in bringing attention into the present so that the game can be played one pitch at a time which is incredibly difficult to do.
Just as in college, some of the guys on the ValleyCats saw what I was able to do with my body and it generated some curiosity. There were a few instances throughout the year that some of the guys wanted to give it a try, and I tried to use those opportunities to share the benefits that I have come to appreciate through my practice.
I think that yoga has begun to be so mainstream that many people have tried it once or twice and those who haven't tried it before are curious. At the same time, yoga is as unique as the individual – everyone is unique on and off the mat – so I would recommend that new yogis just keep an open mind and practice what they find helpful and let go of the things that don't interest them.
WTH
: The offensive results from your first professional season with Tri-City were a little mixed, but you definitely showed some good pop in your bat and also put up some good post-season numbers. What went wrong? What went right? What did you take away from the experience?
DG
: There's definitely an adjustment from the college to professional game. It was up and down for me personally, but it was a great help to be around teammates like I had in Tri-City. Looking back, I was trying to do too much. I was making mechanical adjustments and changes in my approach that kept me from just going out and competing in the batter's box. That's not to say that baseball isn't a game of adjustments because it certainly is, but at some point it just comes down to getting a good pitch to hit and hitting it hard and I was more inconsistent than I would like in doing so. I'm excited about the progress I'm continuing to make this off-season and look forward to getting into spring training and seeing where it goes from there.
It's hard to put a finger on what I exactly took away from the experience of my first half-season because there's just so much. I guess what stands out most in my mind is just what it means to have a professional approach to the game from a day-in day-out perspective.
WTH
: Years from now, what will you remember most vividly about Tri-City's run to the finals?
DG
: It was an amazing group of guys to play with. We had great camaraderie. We were friends on and off the field and it definitely translated into the way we played together.
WTH
: What have you been doing in the off-season to prepare for the coming year?
DG
: I've been doing everything that I think would help me get to where I want to be. I've been working out at Jacksonville University with some very knowledgeable guys to help me with baseball activities on top of all the physical training that's getting my body into the best shape possible.
WTH
: What are your goals for Spring Training?
DG
: I'm taking care of my preparation on a day-to-day basis, so as Spring Training approaches, I'm just going to get myself physically and mentally prepared for whatever may happen. With this being my first Spring Training, I'm just ready to put in whatever work is asked of me and then go above and beyond what's expected.
WTH
: Which pitcher from that stacked Tri-City team would you least like to face in the batter's box?
DG
: With how good all the guys were in our staff, it could change on a day-to-day basis. I know watching from the outfield that I was happy not to be in the box many times, but without a doubt
Kenny Long
would be the pitcher I'd least like to face.
WTH
: Was there one pitcher/player that you particularly enjoyed just sitting back and watching play/pitch?
DG
: We had so many guys contribute throughout the year that it was really a collective effort. In the beginning of the year, it was really special being able to see what
Andrew Aplin
was able to do and then as we progressed later into the year
Preston Tucker
was a workhorse for us.
WTH
: Who on the Tri-City team made you laugh?
DG
: There were a lot of characters on the team but Austin Elkins could get me laughing pretty easily.
WTH
: If you couldn't play baseball, what would you do?
DG
: If I couldn't play baseball, I would stay involved in athletics by becoming an athletic trainer or physical therapist.
WTH
: Can you tell me one thing about yourself that most people don't know and might be surprised to hear?
DG
: I'm a ninja at heart.
>>>>><<<<<
To see Dan in action, check out
this video
starting at about 45 seconds. Thank you for your time, Dan. Good luck in the new season. Namaste.