Houston Astros 4, Toronto Blue Jays 3
2014 Grapefruit League record: 4-6
W- Raúl Valdés (1-0)
L- Jeremy Jeffress (0-1)
S- Peter Moylan (1)
Astros home runs: Jason Castro (1, 2-run HR in 6th)
It took a while for both teams' offenses to get into gear, as this game was scoreless for 5 innings. Both teams put up a pair in the 6th, and after a lull in the 7th, the Blue Jays went ahead with 1 in the top of the 8th. The Astros responded with another pair in the bottom of the 8th to take the lead, and Peter Moylan shut the door for an Astros victory, which snapped a 5-game losing streak.
Starting Pitcher: Rudy Owens
Owens was shelled against the Mets in his first spring start, but this start was a complete 180 from that rough first outing. He did labor a little through the 1st with a 23-pitch inning, but settled down after that and finished with 3 strong, scoreless frames.
Final line: 3 IP, H, BB, 2 K
Bullpen
Matt Albers gave up 2 hits and struck out 1 in a scoreless 4th.
Kevin Chapman allowed a single to Kevin Pillar in the 5th, but nothing came of it. He struck out Ryan Goins for the first out of the inning.
The Blue Jays broke the scoreless tie on Anthony Bass in the 6th with an RBI double from Moises Sierra and an RBI single by Erik Kratz. Bass struck out 2 in the inning.
Jorge De Leon allowed a hit in a scoreless 7th.
Kratz hit an RBI double off Raúl Valdés in the 8th, which was upheld after a challenge from Bo Porter. Carlos Perez appeared to have tagged Steve Tolleson at the plate, but Tolleson's foot made it to home plate before Perez made contact with him.
After the Astros took the lead, Peter Moylan threw a 1-2-3 9th, getting 3 flyballs to end it.
Offense
Jason Castro immediately restored the tie with a 2-run homer in the bottom of the 6th. He and Chris Carter had 2 hits apiece.
Adron Chambers got on board with a 2-out single in the 8th and came all the way around to score off Marwin Gonzalez's double to tie the game at 3.
Marwin would score the eventual winning run on a single from Carlos Perez.
Three Stars
3.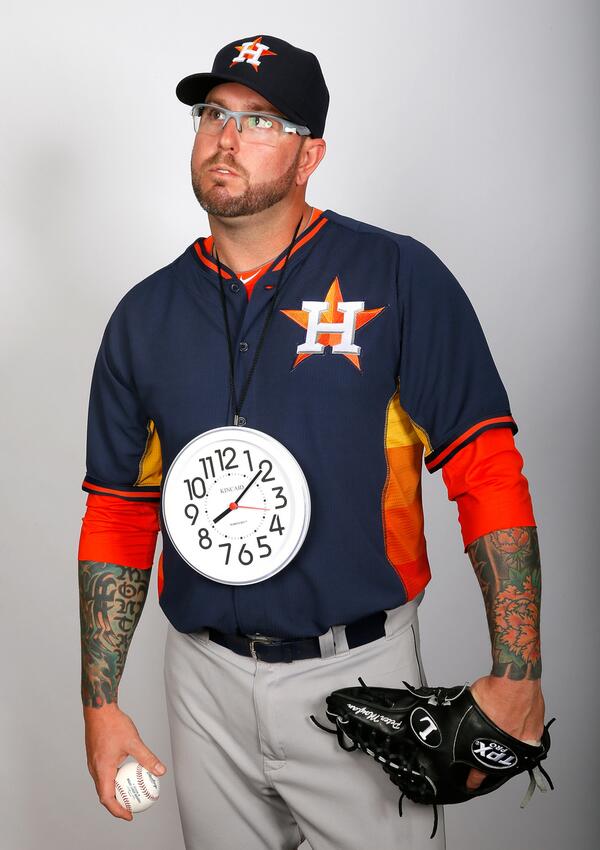 Peter Moylan, RHP
Save (1), IP
2.
1.


Jason Castro, C
2-3, 2-R HR (1) in 6th
Next Up
Up next for the Astros is a home-and-away with the Nationals. The away portion is up first, as they'll travel to Viera. Lucas Harrell will make his 3rd start of the spring, and he'll be taking on Gio Gonzalez. First pitch for this game will be at 6:05 Eastern.